A Q&A with Joy Dean
Joy Dean, Group VP global Inventory and Data partnerships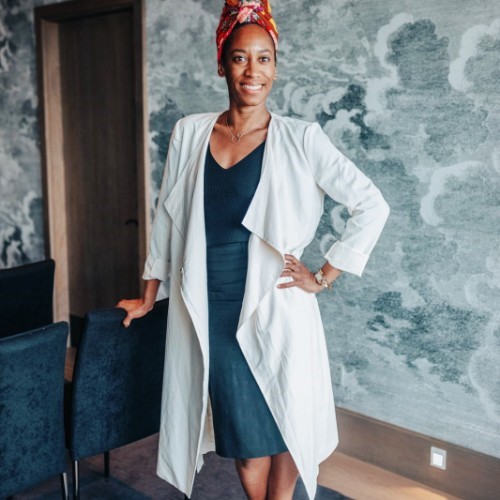 About Invibes Advertising
Invibes Advertising is an advanced technology company that specializes in digital advertising. Its innovative solutions are supported by an in-feed format that's integrated into media content. Invibes is inspired by social network advertising and develops its own technology to help brands better communicate with consumers. Its technology is optimized for distributing in a closed network of media groups, including: Bertelsmann, Hearst, Unify, Groupe Marie Claire, Axel Springer, and many others. Clients include major brands such as Mercedes, Samsung, Levis, and IBM.
My start in advertising is a long and windy road, which included studying to be a graphic designer/visual communication specialist focused on coding back when we actually hand coded html (before wix and shopify)! I was always on the creative tech side as a freelancer and entrepreneur. Until one day a very dear friend, who was working at Exponential nee Tribal Fusion in California told me they were hiring. And I was looking to transition from costume designer for theatre and to ultimately learn something new. A new way of communication within the creative realm, so I interviewed. 3 years later I took over the globalisation of our key markets, moved the U.K. to launch the local supply partnerships and have been launching companies in the market ever since. Widespace (Areizone), Ogury (programmatic division) and now Invibes!!
Currently, I'm Group VP, Global inventory and data partnerships for invibes. My role is focused on Emerging Markets and/or locations we have yet to open a local commercial office. I'm tasked with building and executing the supply and data partnerships strategies as well as and expanding fficiencies for our clients.
This includes :
Overseeing the onboarding of these partnerships including collaborating closely with the internal product and insights teams.
Developing and account managing these partnerships and maximising commercial opportunities working closely with the co-CEOs, the Managing Director and Commercial teams, Across our 15 established markets while
Securing commercial relationships with new potential partners
Lack of diversity in ad tech leadership. I've always been the only.. only black, only female, only only only… in senior strategic roles. Yes, it's changing but there is still so much work to do. I'm honoured to be part some amazing initiatives and groups driving this change and furthering actionable discourse. Watch this space
Christophe Joyau, during my day at Widespace, was a really wonderful manager. It was such a wonderful opportunity to work within a structure that had such vast representation in terms of gender, sexuality, age, nationality and it wasnt an ask to be taken seriously, you just were. It was the first time I started with the proverbial A and it was up to me to keep it. I was quite successful under Christophes management, felt trusted, believed in, supported and respected for my talent, my knowledge and my committment to growth with the company in pursuit of its long term strategic and commerical goals.
Be the best 'you' you can and bring her to work, to relationships and the greater world around you. Because there is only one You, and she is fierce!
Find peace and balance in life, before career even enters the conversation
Make peace with yourself. Accepting yourself and holding yourself with kindness is the key to making space for all the other good stuff coming. It also Keeps your stress levels low and give you the energy to focus on what you want to accomplish in lieu of wasting energy trying to be someone/thing else. Believe me, it's never gonna happen. So do you, but do the best damn you possible.
Smart, funny (ish), Powerful problem-solver (ok a little cheat there) 😎 Maybe I should have added a little cheeky to boot!
Global privacy first marketing being the norm in terms of ad solutions and operational cookieless solutions outside of MAMAA. Publishers owning their tech stack in a much more efficient manner, diversification of media partnerships and WOW (shorter work weeks, hybrid flex working structures).